Last Updated on March 7, 2023 by Practical Cooks
As a food lover, I'm always searching for different recipes. Recently, I came across an interesting recipe that called for udon noodles. This is a type of noodle that originates from Japan. Unfortunately, I couldn't find them in the grocery store, which led me to research the best substitutes for udon noodles.
Some of the best substitutes for udon noodles include soba noodles, ramen noodles, rice noodles, Chinese egg noodles, linguine pasta, shirataki, spaghetti, and zucchini noodles. These substitutes may differ from udon noodles in size, nutrition value, texture, and cooking time, but they are just as tasty.
Continue reading to learn about these substitutes and how to incorporate them into your meal.
Options for Udon Noodles
Here are the best substitutes for udon noodles
Soba Noodles
Soba noodles are the most popular substitute for udon noodles. They also originate from Japan, although they are slightly different in color, texture, and flavor. Soba noodles are short and thin and have a nutty and earthy flavor.
Because they are made from buckwheat grain, they are slightly darker than udon noodles. This also means they lack gluten. You'll likely love this substitute if you don't take gluten or are allergic to it. Nonetheless, be careful when buying soba noodles, as some might not be 100% made of buckwheat grains.
This alternative is perfect for recipes that don't need a strong flavor. If you're trying to lose weight, get them, as they have fewer calories and carbs. In terms of nutritional value, they are rich in manganese and high in soluble fiber.
Ramen Noodles
Ramen noodles are a tasty substitute for udon noodles and can be served in sauce, broth, or as a side dish. They are a bit thicker and different in texture but still make a great substitute. They are also high in vitamins and iron.
One of the things I love about Ramen noodles is that they are available in multiple flavors, making them tastier. I highly recommend them if you want a strongly flavored dish. However, as they are thinner, you'll want to thicken your sauce or soup using cornstarch.
Spaghetti
Among all udon substitutes, spaghetti is the most available. If you can't find other noodles, go for the good old spaghetti. Since it's thinner and longer, it's impossible to turn it into udon noodles. Still, you can improvise the taste and texture, turning it into something suitable for your dish.
According to most food experts, baking soda does the trick. It can turn many things into Asian-themed noodles. Adding one tablespoon of baking soda to your spaghetti makes the water alkaline, giving the pasta a savory taste and a spring texture like udon noodles.
Spaghetti is a versatile meal you can enjoy on its own or combine with other ingredients to make different meals. The taste may differ from udon noodles, but it's definitely a worthy substitute.
Chinese Egg Noodles
Chinese egg noodles are a popular substitute for udon noodles as they are widely available. You can replace udon noodles with any type of Chinese egg noodle, including chow mein, wonton noodles, and lo mein.
Chinese egg noodles have a neutral flavor and a springy texture, hence similar to udon noodles in taste and texture. You can use them in stir-fried dishes and soup. And if you're a DIY person, you can make your own Chinese egg noodles using flour, water, eggs, salt, and baking soda.
Rice Noodles
This is another great alternative to udon noodles. It's made from rice flour and water and is available in different forms, such as fresh, dried, and frozen. I recommend getting them fresh.
Rice noodles are mild in flavor and thick, resembling udon noodles in structure. When preparing them in stir-fry dishes, broths, and soups, be careful with the proportions, as they can take over the dish. The good news is that prepping them is easy and takes a short time.
Zucchini Noodles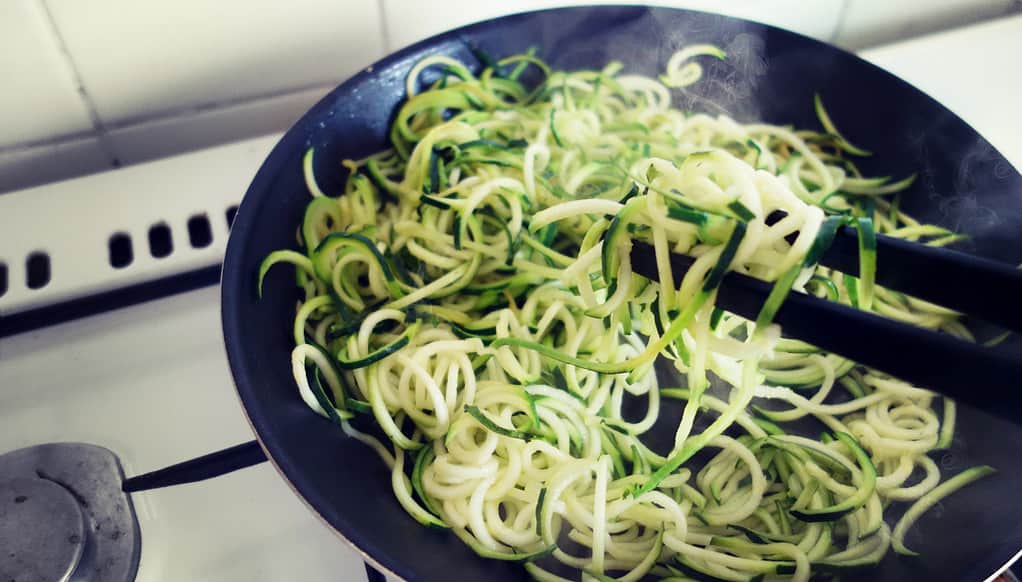 This here is for our friends looking for a gluten-free alternative. Zucchini noodles are popular among vegans and people watching their weight because they have less cholesterol, calories, and carbs. While they are plant-based noodles, they have a mild flavor and absorb flavors effortlessly.
Linguine
Linguine pasta is thick and chewy, making it an excellent substitute for udon noodles. It also absorbs spices and sauces really well. Most of the time, linguine pasta is used in seafood dishes, but you can also use it in salads, stir-fries, and other dishes.
Shirataki
Just like zucchini noodles, shirataki noodles are a gluten-free and vegan substitute for udon noodles. While they are smaller and translucent, it doesn't mean they aren't suitable. Just like udon noodles, they have a rubbery or chewy texture.
They easily absorb flavors from sauces, dips, and soups. If you are on a weight loss diet, include these nutritious noodles in your meal plan, as they are low in carbohydrates and calories.
Why Replace Udon Noodles?
There are many reasons why you may need to look for substitutes. The most common one is non-availability, where you can't find udon noodles in the stores near you. People sensitive to gluten might also look for alternatives. Udon noodles are made from wheat flour, hence a high gluten content.
Other people will look for substitutes because they want a different taste than udon noodles. In this case, an alternative will do.
Related Questions
Where Can I Buy Udon Noodles?
You can find udon noodles in most grocery stores. Try checking if there is a store near you specializing in Japanese foods. You're likely to find it. You can also check it online and place your order.
What Is the Main Difference Between Udon Noodles and Regular Noodles?
Udon noodles are white and thick, made with wheat flour, water, and salt. They are usually thicker than most noodles, although they are served in the same way.
Are Udon Noodles Healthy?
Udon noodles are healthy as long as you serve them in the right proportion and mix them with a good amount of proteins.