Do you enjoy a nice cup of tea? How about a refreshing glass of iced tea? Whatever your beverage of choice, you'll likely find yourself hungry for something that begins with the letter "T."
Countless foods from around the world, both popular and relatively obscure, happen to start with the letter.
Whether it's delicious tacos from Mexico, richly marinated tandoori chicken from India, or irresistible tagliatelle from Italy, this list is sure to make you hungry. Without further ado, here are 37 favorite foods that begin with the letter "T."
Tortellini
Tortellini is a pasta dish originally from Italy. Similar to ravioli, tortellini is a meat-cheese combination wrapped in dough and then pinched into its distinctive shape, served with a tomato or cream sauce. Its name reflects the process, as it likely derives from torta (meaning "pie" or "cake").
With a recipe dating back to at least the 15th Century, tortellini has proven to be enduringly popular in its home country. The traditional meat mixture usually consists of pork, mortadella, and prosciutto. It can be found in most grocery stores, either fresh or frozen.
Turkey
The turkey is a large bird typically served as a meal on special holidays like Thanksgiving and Christmas.
It is often stuffed with herbed breading and accompanied by mashed potatoes, vegetables, cranberry sauce, and gravy. Turkey can also be sliced thin and is a popular deli meat.
Tomato
Tomatoes are commonly mistaken as a vegetable when, in fact, they are a type of fruit. The tomato is one of the more versatile foods.
It can be eaten raw in salads and sandwiches, processed into tomato sauce, ketchup, and salsa, or made into juice. Of course, it can also add plenty of flavor to numerous dishes, including pizza, pasta, and risotto.
Tuna
Tuna is a saltwater fish made up of multiple species and is a delicacy around the world. It can be served as a "steak," often grilled, usually in fine dining establishments. More popularly, tuna is cooked and canned in either oil or water as solid, chunked, or flaked pieces.
Tart
Akin to a small pie, a tart is a pastry shell that you can fill with custard, jam, or fresh fruit like a flan. Quiche tarts are another popular variation, consisting of eggs, meat, cheese, and vegetables. The butter tart is a savory Canadian dessert that often includes raisins, walnuts, or pecans.
Related: Foods that start with B
Tourtière
Tourtière is a meat pie that originated in Quebec, Canada. The recipe can include pork, beef, veal, rabbit, or sometimes fish, along with potatoes and spices baked in a pastry shell.
Tandoori Chicken
Tandoori chicken is a delicious dish with a blend of spices. The combination of ginger, garlic, cumin, and cayenne pepper gives the meat a distinct red color.
It is traditionally baked in a tandoor, a type of clay oven. Other dishes baked in the tandoor include tandoori naan and roti.
Tamales
Tamales are a dough made of corn that can be stuffed with any number of ingredients, including meat, cheese, vegetables, and chilies. They can be served in different ways depending on the country and are popular in Mexico and the USA, throughout Central America, and the Caribbean.
Tacos
Tacos are as delicious as they are versatile. Starting with either a soft tortilla or hard corn shell, tacos can be filled with meat, cheese, and lettuce, and topped with sour cream, salsa, and guacamole. They are hand-held food, meaning you'll want to be careful as they can be messy.
Tiramisu
Tiramisu is a savory Italian dessert that might only date back to the 1960s. It is made with sponge cookies called ladyfingers, creamy mascarpone cheese, coffee, and cocoa. The end result is a light but sumptuously rich texture. Delicious!
Trout
Trout is a popular fish for anglers as they put up a challenging fight. They also make for tasty eating, which has led to the species being raised on fish farms. The fish is a high source of protein and is often served smoked.
T-Bone
T-bone steaks are considered one of the highest quality steaks available and can be quite expensive at your favorite steakhouse. Both it and porterhouse are cut from the short loin.
The smaller portion of a T-bone is called a filet mignon and is often sold on its own.
Turnip
The turnip, also called rutabaga, is a root vegetable. The skin is usually white but can also be yellow or purple. You can prepare turnips by cubing the root and boiling them in salted water. Turnips can be enjoyed as a side dish with butter and a little salt and pepper.
Tabbouleh
Tabbouleh is a Mediterranean salad from the Middle East. You make the dish by combining bulgur, a whole wheat grain, with tomatoes, onions, parsley, and mint. Tabbouleh has become popular in North America along with other Levantine delicacies like hummus and baba ganoush.
Turnover
A turnover is a tasty pastry you can eat as a breakfast or a dessert. It is made by placing a fruit filling like apple or cherry on a puff pastry, folding it over, then baking it. The turnover is then drizzled with icing. Be careful, as the filling will be hot!
Tofu
Tofu is a common meat substitute for vegan diets. Soy milk curds get pressed into blocks of tofu. Although somewhat bland in taste, tofu is high in iron and protein and low in calories.
While it originated in China, tofu is popular in dishes around the world. You can include it in smoothies, salads, quiche, cream sauces, and anything else you want to replace meat.
Tahini
Another Levant dish is tahini. Like baba ganoush and hummus, tahini is eaten as a spread or dip with pita or naan. Made from ground sesame, tahini is also used to make cakes, cookies, and ice cream.
Teriyaki
Teriyaki is a tasty glaze that is used in the preparation of many dishes. The cooking technique was developed in Japan and is primarily associated with seafood.
Elsewhere, teriyaki flavors chicken, pork, and beef. The ingredients include soy sauce, ginger, rice wine, and sugar.
Tenderloin
Tenderloin, whether pork or beef, is the most tender cut of meat there is. The tenderloin is located next to the backbone beneath the ribs and is a muscle that does very little work. The prized cut can be sold as filet mignon or used in tasty dishes like beef Wellington, chateaubriand, or beef Stroganoff.
Tapioca
Tapioca is extracted from the cassava plant and is a staple food in tropical countries. You can use it to make soft flatbread or crispy crackers.
In addition, tapioca pearls thicken certain foods and desserts like puddings and bubble tea.
Trifle
Trifle is a delectable English dessert typically layered in a glass bowl. Sponge cake or ladyfingers are soaked in sherry, topped with either whipped cream or custard, then fresh fruit or jam. Sometimes, gelatin, like Jell-O, is used as a substitute for custard.
The process is repeated several times, creating delicious layer after layer.
Tagliatelle
Tagliatelle is an egg pasta similar to fettuccine, except with wider noodles. Originating in Italy, tagliatelle is routinely served with a Bolognese sauce. The long, flat ribbons make it an ideal pasta for thicker sauces.
Tapenade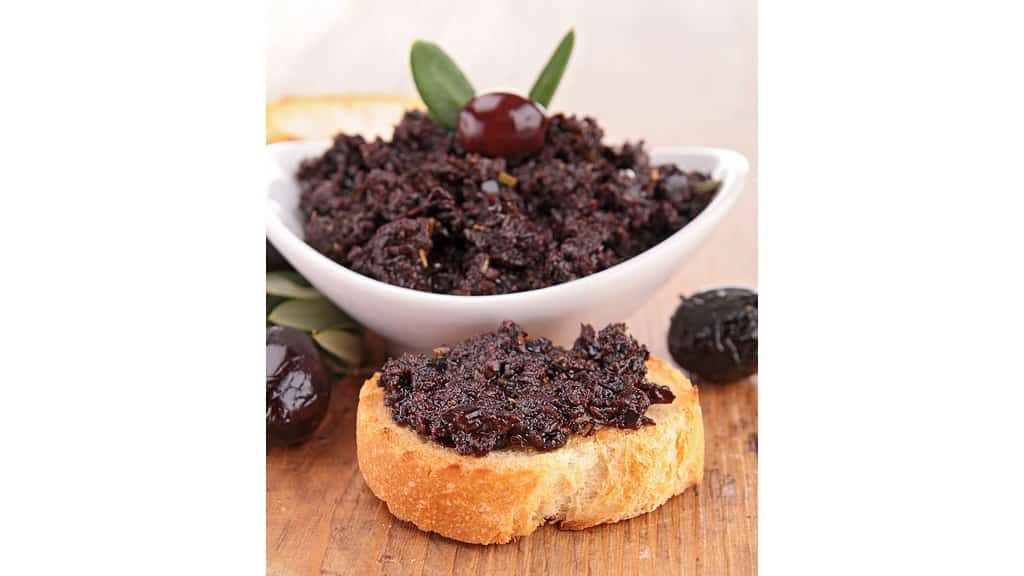 Tapenade is an appetizer that dates back to late 1800s France. Olives, oil, and capers are puréed and then spread on a baguette, crackers, or crudités. It is a flavorful hors d'oeuvre served before the main course.
Tortillas
Once made from maize hominy meal, a tortilla is traditionally a round flatbread made from ground corn that dates back thousands of years to Mesoamerican cultures. Tortillas can also be made with wheat flour. They play a central role in Mexican cuisine, from tacos and fajitas to burritos and wraps.
Toffee
Toffee is a popular candy made with caramelized sugar, molasses, and butter. It can be a chewy or hard confectionery and is similar to other goodies like caramel, butterscotch, and taffy. Toffee-covered apples make for a nice treat to hand out on Halloween.
Tilapia
Tilapia is a freshwater fish low in fat and high in protein. It is commercially farmed and used in many restaurants due to its relatively low cost compared to other whitefish. Regardless of cost, this fish is delicious when blackened with Cajun spices or beer-battered and served as fish & chips.
Turkish Delight
Turkish delight is a confectionary originating in Turkey in the late 18th Century. Also known as lokum, the base consists of starch and sugar to create a chewy gel-like candy. It is dusted with powdered sugar to prevent the pieces from sticking together.
Variations can include chopped dates or nuts. The "Big Turk" chocolate bar was a North American version of this Turkish delicacy.
Tempura
Tempura is a part of Japanese cuisine made by deep-frying lightly battered meat, fish, and vegetables. The batter itself is light, created by combining eggs, flour, baking soda, and ice-cold or carbonated water.
Food is coated and then deep-fried in hot oil for only a few seconds. The result is a fluffy, crisp coating on everything from shrimp, fish, carrots, mushrooms, and sweet potatoes.
Tangerine
Tangerines, like clementines, are smaller and often sweeter than oranges. They are easy to peel and are a holiday favorite around Christmas.
Typically, you can find tangerine wedges in salads, main dishes, and desserts. The peel is zesty, making it useful for drinks or baking.
Tetrazzini
Despite the name, tetrazzini is a casserole dish that originated in San Francisco in the early 1900s. The most popular form is chicken tetrazzini, although you can also use turkey and tuna as a substitute.
It is made by combining poultry with a butter cream sauce, cheese, and mushrooms and then served over pasta such as linguine or egg noodles.
The recipe is flexible enough for experimentation, so you can top the dish with extra cheese or breadcrumbs before baking.
Tabasco Peppers
Tabasco peppers are best known for that little bottle of hot sauce. Hailing from the Mexican state of Tabasco, these peppers are at a moderate level on the heat scale, so you shouldn't have to worry about an overwhelming sensation.
They are the only chili peppers that are not dry on the inside. Tabasco peppers have smooth, yellow skin then ripen to a bright red appearance.
Tater Tots
Who doesn't like a tater tot? These bite-sized potatoes are like a French fry, baked or deep-fried, with a crispy outside and tender potato goodness inside.
Dip them in ketchup, ranch, or hot sauce for a taste sensation. You can always stuff them in your pocket for a snack later just like Napoleon Dynamite.
Taquitos
Taquitos are rolled-up tortillas stuffed with chicken, beef, or cheese, then deep-fried until crispy. They are a great snack to dip into some guacamole or sour cream.
These tortillas are also called flautas or tacos dorados in Mexico.
Tempeh is an Indonesian delicacy made from fermented soybeans. The dish has a cake-like texture that is then flash-fried until crispy. Not only is it easy to eat, but it's a good source of protein, vitamins, and dietary fiber.
Tripe
Tripe is the stomach lining of an animal, most often a pig, cow, or sheep. It is used to make soup, sausage, and stew and can also be steamed for dim sum. Be sure to circle October 24 on your calendar to celebrate World Tripe Day!
Toast
Toast is typically a quick breakfast option, but that doesn't make it any less versatile. Indeed, you can make toast with white bread, whole wheat, or gluten-free. Popular spreads include peanut butter, strawberry jam, or straight-up butter. What's more, even if you forget it in the toaster and burn it black, you can simply scrape it to a golden brown.
Teacake
With the cup of tea you poured at the beginning of this list, why not relax with a nice teacake? This yummy snack is the last entry on our list of 37 foods that begin with T. Teacakes take different forms wherever they are eaten.
Most popular in England, a teacake is a soft bun that has been toasted and buttered. In the USA, a teacake can be sweet like a cookie. Either way, it's the perfect treat when you need a break!