The world is a fantastic place full of incredible foods. There are so many culinary wonders to explore that you'll have your plate overflowing with unique delicacies if you're willing to put your taste buds out there.
For those of you who are looking for some inspiration and need a place to begin your delicious foodie journey, and those of you just looking to taste something new, here are 37 mouthwatering foods that start with B.
Burritos
The humble yet filling burrito is one of the most popular Mexican/Tex-Mex dishes around. Typically wrapped in a flour or corn tortilla, these pillows of flavor are stuffed with a variety of ingredients such as meats, cheeses, veggies, sauces, rice, beans, and much, much more.
The versatility of the burrito makes it the ultimate comfort dish.
Beefsteak
Beefsteak comes in all different cuts, flavors, and sizes, making it one of the most prized yet widely available meats for chefs everywhere.
While we won't name every cut, these are some of our favorites (in no particular order):
Flank
Skirt
Porterhouse
Wagyu
New york strip
Ribeye
Filet
Brisket
While technically beef, this particular cut needs its own segment. When slow-cooked and smoked, this glorious slab of meat becomes a juicy, flavorful masterpiece garnished with a thick coat of spices and smokey goodness.
In the United States, it's said no one smokes a brisket better than the Texans.
Baba Ganoush
Baba ganoush is a rich, creamy dipping sauce often used as an appetizer in Mediterranean cuisine. The base of the dish is usually roasted eggplant mashed up with delicious flavors like lemon, olive oil, and various spices.
Originally from Lebanon, baba ganoush is in its element when served with some piping hot pita bread.
Black Cherries
The tiny, dark red fruits known as black cherries are sweet, slightly tart, and lavishly juicy. They have a broad application of culinary uses, but the most satisfying way to enjoy them is fresh off the stem.
Best of all, these delicious little treats are healthy and full of beneficial antioxidants.
Blue Crabs
Blue crabs are often associated with the Maryland Chesapeake Bay area, and for a good reason – they really know how to steam these delectable critters the right way.
Coated generously in old bay seasoning, blue crabs are cooked fresh and served on crudely torn pieces of parchment paper. They take a bit of work to crack open, but their succulent meat is well worth the effort.
Bagels
Hailing from the Jewish communities in Poland, the bagel is a circular dough baked until the outside is crispy and the inside is soft. Routinely served with cream cheese, bagels come in various shapes and flavors.
Bacon
Bacon is the king of cured meats for many around the world. Known for being a salty, fatty slab of greasy flavor, this delicacy is used in many unexpected ways.
Some cover their Thanksgiving turkeys in it, others eat it for breakfast, and a select few even dip it in chocolate.
A good rule of thumb is: "it probably tastes better with bacon."
Bratwurst
Bratwurst is one of Germany's most popular sausages and has a unique, deep flavor. Typically made with ground pork, the Germans have these hearty links pan-fried with onions and crusty bread.
Blue Cheese
Also known as bleu cheese, this is a pungent, powerful-tasting soft cheese known for the bluish mold that grows within. Its odor and sharp taste aren't for everyone but are beloved by those who enjoy it.
There is also a lighter dressing version of blue cheese that many restaurants serve with wings and in salads.
Banana

Bananas are hearty fruit high in potassium and full of flavor. Bakers are fond of incorporating them into banana bread, muffins, and pancakes, but most people prefer to eat them as is.
While bananas are tropical and found in warmer climates, they are exported and consumed globally.
Bortsch
This enduring Ukrainian soup gets its bright red color from emulsified beats and can be served hot or cold. Bortsch has spread its influence across the world and has become quite popular in Asia, Europe, and the Americas.
It's a delicious stew, but it's best not to wear white while eating or making it.
Baguette
A baguette is an iconic French bread known for being narrow, long, and crispy. The simplest way to enjoy this crusty baked good is with a little butter or jam alongside red wine.
It can also accompany pasta and cold cuts, and is used for sandwiches.
Beans
There are so many different beans that we couldn't possibly name them all. Black, pinto, chickpeas, lima, and kidney are some of the most popular. They are cooked in a variety of ways, including boiling and frying.
Beans are filling and used practically everywhere, from Mexico to India. Wherever you go, there will be some cultural beans, so be on the lookout!
Baklava
Baklava is an Ottoman dessert that food historians can vaguely trace back to ancient Greece. In current times, it's a popular Middle Eastern pastry often filled with nuts, syrup, honey, or doused in rose water.
Each country has its variation, so don't expect Baklava from two different places to be the same.
Burgers
One of the most commonplace foods that start with B is the classic burger. While burgers originate from Germany, these patties of ground meat have since become a global staple.
Served on buns with cheese at fast food joints and diners, this treasured sandwich is the comfort food of millions and continues to be one of Earth's favorite foods.
Burgers are typically made with beef but sometimes with bison, lamb, chicken, and turkey.
Béchamel Sauce
Béchamel sauce is a luxurious white sauce concocted by the French and used in numerous dishes. Made primarily from roux and milk, you'll usually find this creamy dressing on pasta, casseroles, and souffles.
It is one of France's "mother sauces" because it's the base for many other sauces.
Bolognese

Bolognese is an Italian favorite when it comes to pasta sauces. It's a meaty tomato marriage with plenty of herbs, spices, and garlic, enough to leave you saying, "wow."
Italians love making bolognese for their Sunday dinners, but this simple sauce makes for a great supper any day of the week.
Bok Choy
Descending from the cabbage family, this Chinese vegetable tastes suitably cabbagey and has a hint of pleasant bitterness. Recipes for bok choy are relatively basic, usually only seasoning the vegetable with soy sauce, garlic, and ginger.
You'll also find it as a component for other recipes like dumplings, soups, and stir-fries.
Bangers and mash
Bangers and mash is a traditional British dish that serves hearty sausages (bangers) over mashed potatoes. The United Kingdom likes topping this saturating meal with gravy, peas, and delicious fried onions.
You can make bangers and mash at home, but that'll never compare to eating it in a pub with a pint of beer.
Basil fried rice
In Thailand, "basil fried rice" is a delicious dish that hasn't entirely made its way into international cuisine but tastes fantastic nonetheless.
Seasoned with garlic, oyster sauce, fish sauce, and basil (obviously!), this rice is healthier than the regular fried variety and relatively easy to make.
Bass
Bass is a white fish with a firm texture and a delicate taste. You can pan-sear it, bake it, or fry it and it'll retain its soft, juicy flesh all the same.
Since bass meat is a bit mild, you'll want to go light on the herbs, lemon, and butter to have the fish's natural flavor really shine through.
Brie
Brie is a soft French cheese comparable to the taste of butter. Eating it on crackers makes for a nice snack, but you can take it to the next level by baking it in a puff pastry with nuts and jam.
Baby-back Ribs
Barbeque enthusiasts and professional meat smokers agree that the best way to cook ribs is low n slow. The meat should be tender yet firm enough to stay on the bone.
Some areas like to slather their baby-back ribs in a sweet, smokey sauce, while others enjoy a rustic, well-seasoned dry rub.
Bell Peppers
Bell peppers come in various colors and are mild yet flavorsome peppers. Stuffing them with meats and cheeses makes them a meal on their own, but serving them as a side dish with a tad bit of olive oil is also a splendid way to enjoy them.
Bonito Flakes
Bonito flakes are a Japanese topping that provides a slightly smoky fish flavor. They are made from dried fish parts and are used to garnish dishes like okonomiyaki, takoyaki, and sushi.
Many Asian countries use bonito flakes for stocks and sauces as well.
Bread Pudding
Initially, an 11th Century English struggle food used to stretch out stale bread, bread pudding has since become an international dessert with tons of takes and styles.
It's usually made with a bread-based pudding mixture and topped with a glorious vanilla-cinnamon sauce. Other versions make it with maple syrup, nuts, rum, and raisins.
Basmati Rice
Basmati rice has long grains and an aromatic smell. It is grown abundantly in India and Pakistan and shipped globally. It's much more fragrant than white rice and makes for a delicate side to Indian and Pakistani cuisines.
Blueberries
The tiny blue spheres known as blueberries are mildly tart, juicy, and satisfyingly sweet. Baking them in pies is a great way to savor freshly picked blueberries, but eating them right off the bush is a snack you'll never forget.
Brownies
Chocolatey, fudgy goodness; what else can we say?
This rich baked confection is a cheat food for those with a sweet tooth, and an indulgent dessert served hot with vanilla ice cream.
Barbacoa
Barbacoa is a Mexican delicacy consisting of slow-cooked meats and plenty of spices. It translates to "barbeque" and is frequently eaten on warm corn tortillas with fresh lime and cilantro.
Bao Buns
Chinese bao buns are fluffy, lotus-leaf buns filled with sweet roasted pork. Chicken, fish, and beef can be used, and veggies like cabbage and lettuce are sometimes added.
Bao buns are a popular street food in Taiwan, China, and Japan.
Beef Wellington
There are three things Gordon Ramsay is known for: yelling, cursing, and beef Wellingtons.
The beef Wellington is a fanciful British dish where the filet is covered in a mushroom filling and rolled up in a puff pastry. It is then baked until medium rare and served on special occasions such as holidays and celebrations.
Brussels Sprouts
You either hate them or love them, but you can't deny that these veggies are incredibly healthy. When cooked right, sprouts are crispy on the outside and creamy on the inside. Their flavor is a bit strong, but you can balance them with salt, pepper, and bacon.
If you're not fond of Brussels sprouts, you could always try them baked with olive oil, garlic, and bacon.
Biscuits and Gravy
Biscuits and gravy is a staple in southern states in the US where creamy white gravy is seasoned with sausage and black pepper, then topped on the fluffiest biscuits you'll ever put in your mouth.
While this hearty, carby dish sounds like a dinner food, it's actually most commonly eaten for breakfast.
Bone Marrow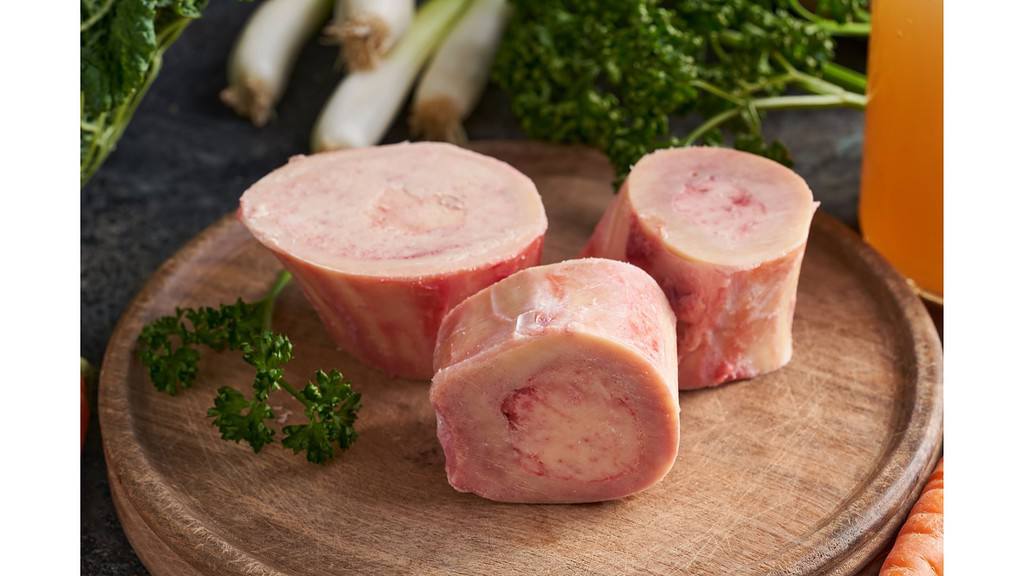 Bone marrow, specifically beef bone marrow, is eaten worldwide in many ways. The Vietnamese like to use it in their signature soup, "pho," while several Latin American countries eat it in tortillas and stews. It also makes a fatty toast topping when it's seasoned and grilled.
Remember, don't knock it until you try it (it's basically like butter, but more delicious!)
Buffalo Wings
To end things off on this list of foods that start with B, let's talk a little about a favorite game-day food in the United States: the buffalo wing. Served with ranch, blue cheese, and celery (for some reason), buffalo wings are saucy and bursting with spicy flavor.
They're a great appetizer, but never forget a napkin when eating these babies because your hands are bound to get coated in a glossy orange glaze.